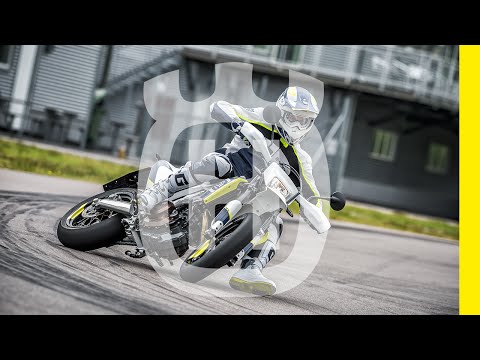 Maybe it's because my supermoto season officially ended this weekend (without me, I should add), with our last scheduled sumo session at the go-kart track here in Portland passing by this weekend, or maybe it's because we just want the Swedish brand to deliver the Husqvarna 701 Supermoto already…either way, consider our appetite whetted by this last video from Husky.
Finally giving us a showing of the 701 Supermoto on a proper race track — not that the ice course with spiked tires wasn't cool (no pun intended) — we get to see the 701 at home in its natural element: hitting apexes, sliding tires, and crushing lean angles.
We imagine that the nearly as powerful, and considerably lighter Husqvarna FS 450 supermoto would be the better weapon on the track, but the 690cc power plant on the Husqvarna 701 Supermoto is certainly the better choice for a machine that will roll a tire on public roads…and that's sorta the point of the machine.
We'll be eager to see this Husqvarna hit showrooms in Europe this November, and thus being the long wait for it to come to the USA in February 2016. Could the Husqvarna 701 Supermoto be the ultimate city hooligan bike? Time will tell…we're certainly eager to find out, though.