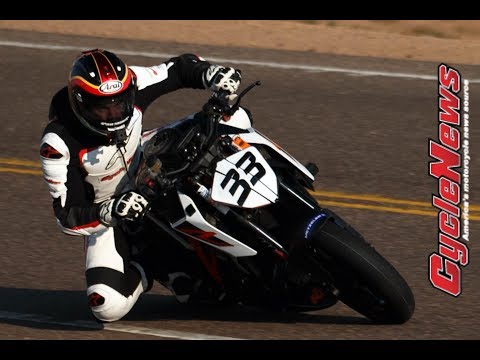 The old adage in racing is that you get slower once you have a child. Being from Australia and all, I don't think our friend Rennie Scaysbrook (of Cycle News fame) got that memo.
Just days before he would head off to Colorado for the 95th running of the Pikes Peak International Hill Climb, Rennie and his wife Annabelle gave birth to their first child, Harvey James Scaysbrook.
Having just joined the noble ranks of fatherhood, it would be a short introduction, as Rennie would have to leave Baby Harvey right away and compete in the 95th running of the Pikes Peak International Hill Climb.
For his work on the mountain, Rennie joined an exclusive club of a different kind, posting a solid 9:57.712 time on his 2017 KTM 1290 Super Duke R – thus becoming one of just a few motorcyclists who have broken the 10-minute barrier at the Race to the Clouds.
With that time, Rennie was the second-fastest man on a motorcycle at Pikes Peak this year *cough* first loser! *cough*, as his teammate and Pikes Peak rookie, Chris Fillmore, would go on to break the standing motorcycle record with an even more impressive 9:49.625 time.
We already showed you Fillmore's lap, but we think Rennie's give a better perspective of what it is like to race up the 156 turns of Pikes Peak.
As an aside, we were pretty stoked to see Rennie break the 10-minute mark at Pikes Peak this year, and of course the A&R team gives a big congratulations to the Scaysbrooks for their bouncing baby boy. Let's hope he gets his racing skills from Dad, but his looks from Mom!