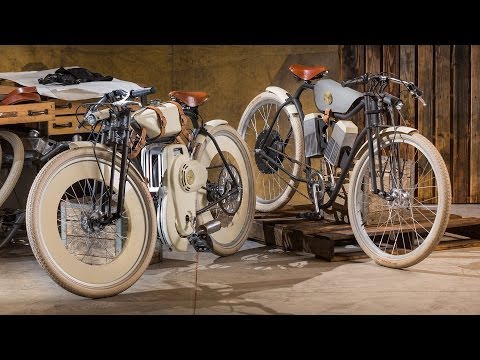 Arizona-based Local Motors is a design and engineering company that fosters and utilizes community-sourced designs and ideas to pursue relevant real world solutions to transportation problems.
By leveraging a community of "co-creators" from around the world, the company is able to bring concepts to life through prototyping and fabrication in their micro-factories, and is best known for its Rally Fighter off-road coupé.
The team's latest endeavor is the Local Motors Cruiser, an attempt at incorporating the vintage board track aesthetics into a motorized bicycle format. Designed by Romanian designer Ianis Vasilatos the Cruiser comes in two powertrains.
The electric brushless system that gets you about 20 miles of range with the option of adding a second battery to get an additional 20 miles (your mileage my vary, of course); top speed is limited to 27mph. Meanwhile, the gas-powered version uses a 50cc Honda motor and a 0.6 gallon tank to achieve a limited top speed of 34 mph and a theoretical range of 70 miles.